Amtrak Hit With More Lawsuits From Philadelphia Derailment
Attorneys Bob Zimmerman, Left; Robert Mongeluzzi, Center; And Tom Kline, Right, Announce A Federal Lawsuit They Filed Today Against Amtrak For Last Week'S Deadly Derailment. Dana Difilippo / Staff
Four Amtrak passengers sued the railroad company Monday in federal court in Philadelphia for injuries suffered in Tuesday's crash of Train 188, alleging the rail line failed to install an automatic-braking system on a dangerous curve where the train derailed.
One of the passengers, Felicidad Redondo Iban, a Spanish tourist, was pinned under a car and since has had multiple surgeries to save a nearly severed right arm from amputation.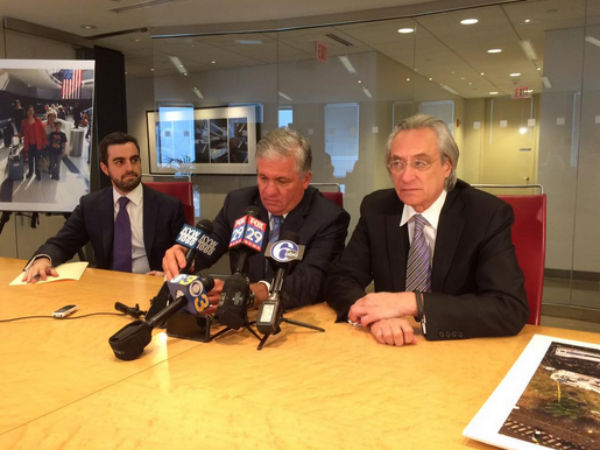 "It is utterly inexplicable to me that someone would accelerate into a sharp curve, unless they were not paying attention or that they believed they had already gone through the curve and were accelerating into a straightaway," said personal injury lawyer, Robert Mongeluzzi, who filed the suit.
Two other suits were filed Monday rising from the crash that killed eight people and injured more than 200 – one in federal court in Manhattan and another in state court in Newark. A Swiss couple who had been on the train filed the lawsuit in Manhattan. Emilio Fonseca, a conductor on the train, sued in Newark seeking unspecified damages.
The lawsuits are likely to be followed by others alleging various injuries, from physicial harm to emotional suffering. The crash has raised questions about the conduct of Amtrak Train 188 engineer Brandon Bostian and the failure of the rail line to install safety technology that would have automatically slowed the speeding train that derailed last week at the Frankford Junction. The first lawsuit was filed Thursday on behalf of an Amtrak dispatcher, Bruce A. Phillips, who was a passenger on the train and headed to New York's Penn Station for the start of a work shift.
In an interview Monday, Mongeluzzi said Amtrak installed such technology over the weekend on the northbound tracks, where the accident occurred, in advance of resuming service on the Philadelphia-to-New York line Monday. That shows that Amtrak, the national rail line, had the ability to make the lines safe all along but chose for financial reasons not to, Mongeluzzi said.
"They had the absolute ability to do it in a short period," he said.
The crash, on a rail line that is heavily traveled by key political and business leaders, has resonated deeply in the nation's capital.
On Monday, Sen. Bill Nelson of Florida, the ranking Democrat on the Senate Transportation Committee, introduced legislation that would raise the cap on payouts in Amtrak accidents from $200 million to $500 million. Congress enacted the cap in 1997 to help stabilize Amtrak financially, as part of a larger restructuring package that called for weaning the rail line off of federal support.
Lawyers who are experts in litigation over transportation accidents say that with eight dead and hundreds injured it is likely that claims against Amtrak will far exceed the $200 million.
"We can't allow anyone to suffer additionally due to an outdated cap based on mid-1990 dollars," Nelson said.
The derailment occurred along a curving stretch of track in Frankford Junction section of the city. Although trains are subject to a speed limit there of 50 miles per hour, the train that derailed, Amtrak Train 188, was traveling at more than twice that speed as it approached the curve.
Mongeluzzi's complaint cites National Transportation Safety Board information that the train was traveling at around 70 miles per hour one minute before the crash. In the ensuing minute, it accelerated to 106 miles per hour, a 51 percent jump in speed.
In addition to Iban, passengers Daniel Armyn, Maria Jesus Rondondo Iban, a counsin and also of Spain, and Amy Miller, a Princeton, N.J., resident, are plaintiffs in the lawsuit, alleging various contusions, fractured ribs, broken teeth, loss of earning capacity and other damages. Maria Iban's husband and Armyn's wife also joined as plaintiffs, alleging loss of companionship with their spouses.